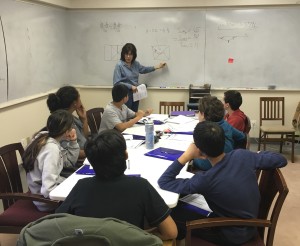 Don't wait until the last minute to prepare; enroll in our test preparation program for 7th graders. We are offering a math drill class every Tuesday from 6:00 – 6:55pm to help students get the best scores possible on the SSAT, HSPT, or TJ admissions test.
This program is a supplement to, not a replacement of, our regular 8th grade comprehensive six-week summer/fall TJ prep program. The purpose of the drills is to thoroughly review and drill math concepts to establish the base for the six-week class.  
We will review basic math, algebra, and geometry facts and practice mental math skills necessary for problem solving on standardized tests.  Each session the student will be given a 20-30 minute math test covering basic math, algebra 1, and geometry.  In the remaining time we will go over student's errors and teach concepts that need review.  Each session is stand alone. $25.   Register here.  
Cost: $25 per 55 minute session.
If you have trouble with the online scheduling, call Kate at 703-203-5796 to book.
All classes take place at 1307 Dolley Madison Blvd.  Suite 4-B McLean, VA  22101  
Inspiring reserves the right to cancel a class due to insufficient enrollment. We also reserves the right to make the final decision on class placement based on our evaluation of the student's academic and test history.
Interested in our online instructional videos?  Click here.
At Inspiring we take the time to get to know the student, because each student matters to us; if a parent needs to talk to us we are available to discuss the student's needs.   Call Mrs Dalby at 703-203-5796 or email her at kvs@katedalby.com if you have questions.
Testimonials
Hey Ms. Kate,

I just wanted to let you know that I made the first cut for the TJ Admission! Thank you all so very much for your help and support, because without it, I would have most definitely been lost while taking the test.

On to phase 2!

Thanks again,

CC
Yay! I'm a semifinalist!!!now I just have to fill out another application :(thanks for all your help!

NB
I made the TJ first cut!!!

C.T.
Dear Kate,

I just got a letter from TJ that I passed the first cut for my TJ test! Thank you so much for all of your help! I will let you know the results of the second stage of screening, which I know is very hard.

Sincerely,
SC
Kate,
I just wanted to send my sincere thanks for sending this explanation to us.  It was extremely helpful.   This is exactly the sort of work Noah needs to spend more time on.  Thank you again for taking the time to explain the problem in a very straight forward manner.  Have a wonderful weekend!
Kind regards,
Jeff
Thank you so much Caroline!  You're both a great team…you definitely motivated him to work hard!
Hope you have a wonderful holiday and new year!
It's a very happy Christmas gift!  Thank you again for helping him focus and prepare!  We'll see you again in 4 years when it's his brothers turn.
Dear Ms. Kate,
Just want to let you know that I got semi-finalist letter today. I made it!!
Thank you so much for everything you did to help me. i will let you know how I make out.
Thanks Again,
MF
Thanks so much for helping me get that 33.
S. made it to the next phase of TJ admissions and would like to say thanks for all your help.

CM
Hello Kate,

We just wanted you all to be the first to know that our son, JC, is a TJ semifinalist!! He received his letter today!
Thank you so much for your tutoring, preparation and guidance through this process! Now he's off to begin the second phase of the TJ Admissions process (i.e seeking teacher recommendations, completing student information sheet, etc.) Any helpful tips regarding this second phase is most welcome:)
Thank you again for teaching and preparing him!

Sincerely,
FC
He got into:
UVA, Boston College,Northeastern, Colgate, Colby [and] Davidson (was nominated for the Belk Scholarship,…he is one of two alternates).
So far, he's been accepted to the Engineering school at ILLINOIS, as well as RIT and the Colorado School of Mines. (Raised score from 31 to 35 composite.)
I got a 35!!!!! Could not have done it without you!!!! Thanks so much! 32 English, 35 Math, 36 Reading, 35 Science.
Student Profiles
STUDENT
SERVICE
RESULT
Langley HS Student, Class of 2018
ACT class & math tutoring with Caroline Hesse
27 to 32 ACT Composite
Langley HS Student, Class of 2019
Accelerated ACT/SAT class
1300 PSAT (2016) to 1490 PSAT (2017)
30 to 34 ACT Composite
McLean HS Student, Class of 2018

10 hours of tutoring