Private Test Prep Tutoring
Learn what Khan Academy isn't teaching you – effective strategies to maximize your scores.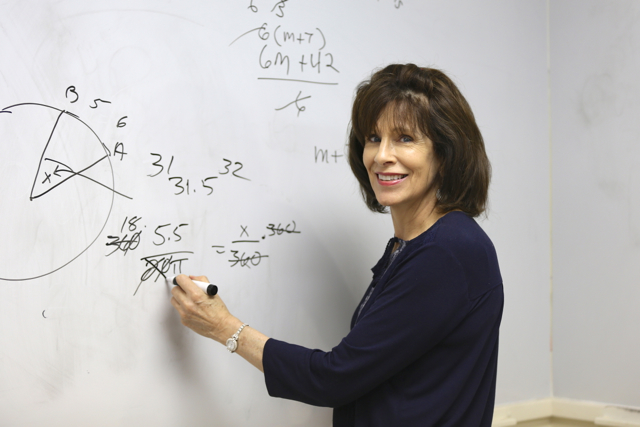 We're not saying Khan doesn't do a good job — it is a solid place to improve your math foundation, and if you want someone to read to you, we suppose watching the reading videos might be diverting — but if you want great scores, AND you don't have a lot of time, you need great strategies for taking the test and insight into why you are having trouble getting the scores you want. Don't leave it to chance.  A few weeks is still enough time to improve your scores significantly!
It is time for you to consult a professional. Someone who will discuss best practices for test taking with you; someone who will listen to you and your particular challenges. Someone who will give you strategic preparation for superlative results. That someone is Kate Dalby.
With our Private Test Prep Tutoring, you can expect the following:
Flexible scheduling: Meet once, twice, three times a week. Pick any frequency you want. View Kate's availability.  If you don't see a time that works for you, call 703.203.5796.
One-on-one tailor-made strategies to help maximize your scores.  Get the prep YOU need – NOW!
Practice at home or, for a one time fee of $200, take unlimited testing (one full test per tutoring session)  at our office in McLean. We have both weekday and weekend hours for testing.
Personalized attention: Trying to reach Kate?  She's just a phone call, text (703-203-5796), or email away (kvs@katedalby).    If she doesn't get back to you quickly via one method, try an alternate — sometimes messages don't get through.
Competitive prices: Kate's prices are fair. Through strategic preparation, she maximizes results very efficiently.
Testimonials
Hey Ms. Kate,

I just wanted to let you know that I made the first cut for the TJ Admission! Thank you all so very much for your help and support, because without it, I would have most definitely been lost while taking the test.

On to phase 2!

Thanks again,

CC
Yay! I'm a semifinalist!!!now I just have to fill out another application :(thanks for all your help!

NB
I made the TJ first cut!!!

C.T.
Dear Kate,

I just got a letter from TJ that I passed the first cut for my TJ test! Thank you so much for all of your help! I will let you know the results of the second stage of screening, which I know is very hard.

Sincerely,
SC
Kate,
I just wanted to send my sincere thanks for sending this explanation to us.  It was extremely helpful.   This is exactly the sort of work Noah needs to spend more time on.  Thank you again for taking the time to explain the problem in a very straight forward manner.  Have a wonderful weekend!
Kind regards,
Jeff
Thank you so much Caroline!  You're both a great team…you definitely motivated him to work hard!
Hope you have a wonderful holiday and new year!
It's a very happy Christmas gift!  Thank you again for helping him focus and prepare!  We'll see you again in 4 years when it's his brothers turn.
Dear Ms. Kate,
Just want to let you know that I got semi-finalist letter today. I made it!!
Thank you so much for everything you did to help me. i will let you know how I make out.
Thanks Again,
MF
Thanks so much for helping me get that 33.
S. made it to the next phase of TJ admissions and would like to say thanks for all your help.

CM
Hello Kate,

We just wanted you all to be the first to know that our son, JC, is a TJ semifinalist!! He received his letter today!
Thank you so much for your tutoring, preparation and guidance through this process! Now he's off to begin the second phase of the TJ Admissions process (i.e seeking teacher recommendations, completing student information sheet, etc.) Any helpful tips regarding this second phase is most welcome:)
Thank you again for teaching and preparing him!

Sincerely,
FC
He got into:
UVA, Boston College,Northeastern, Colgate, Colby [and] Davidson (was nominated for the Belk Scholarship,…he is one of two alternates).
So far, he's been accepted to the Engineering school at ILLINOIS, as well as RIT and the Colorado School of Mines. (Raised score from 31 to 35 composite.)
I got a 35!!!!! Could not have done it without you!!!! Thanks so much! 32 English, 35 Math, 36 Reading, 35 Science.
Student Profiles
STUDENT
SERVICE
RESULT
Langley HS Student, Class of 2018
ACT class & math tutoring with Caroline Hesse
27 to 32 ACT Composite
Langley HS Student, Class of 2019
Accelerated ACT/SAT class
1300 PSAT (2016) to 1490 PSAT (2017)
30 to 34 ACT Composite
McLean HS Student, Class of 2018

10 hours of tutoring